Hookah.org Giveaway – http://www.hookah.org/community/topic/2473-new-year-hookah-giveaway-by-texashookahcom-smoking-hookahcom/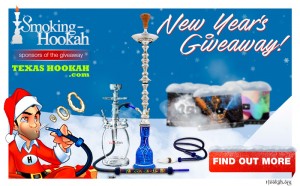 TexasHookah.com and Smoking-Hookah.com are generously sponsoring a new year hookah giveaway.
How to enter:
Create a hookah "music video" or a "postcard graphic design" with a holiday theme.
Prizes:
Rules:
For the videos, they should

be no less than 2 min and no more than 5 min
be made for this giveaway (old videos are not eligible)
give a shout out to our two sponsors

For the post cards, they should

be 5″ by 7″ in size
be unique and made for this giveaway
include the logos for our two sponsors.
Dates:
You have until midnight January 10th to submit your entry.