Mabruk means "Be Blessed"  in Arabic.
Here is a real blessing for those  who  can't wait to set up and smoke or have stick-fingers.
Made in China Mainland!
It's a one of a kind invention sold only at "Smoking-Hookah.com"
I have smoked the double apple and cherry of¬† a non listed tobacco shisha that I¬† am quite sure is……
great taste and a longer than average by farsmoking session!
Link and info :
http://www.smoking-hookah.com/Products/Shisha/Mabruk-The-millennium-water-pipe-capsula.asp
I  like the quick, clean set up. The right ammount of shisha is in the round container with holes already punched! I noticet that the  aluminum container was filled to the utmost top-high level and took some shisha out so it would not  smoke or smolder.
The taste of the double-apple was great.
The charcoals supplied are top-notch long burning.
Since there are 2 units to a pack I tried it without taking out any shisha. Guess what? No smoke or burning at the top and the session went on for 55 minutes of heavy toke inhale.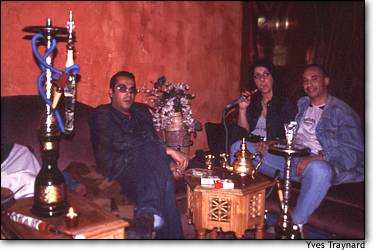 The cherry flavour is the best cherry I've ever had.
"Stalbet"
Hookah 1